Webinar - Battery physics-based modelling: Fundamentals and Methodologies
TEESMAT WEBINAR SERIES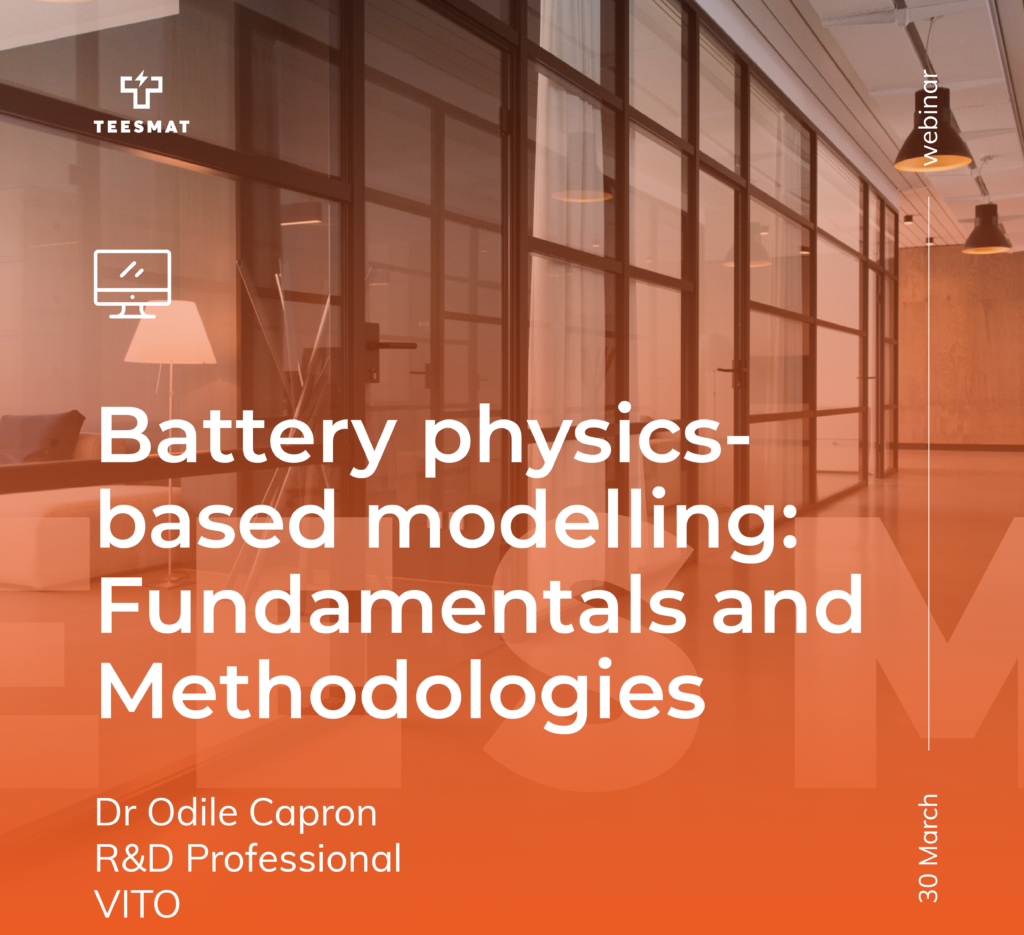 30 MARCH 2022, 15:00-16:00 CET
Join the conversation! Register to our webinar for free!
TEESMAT project organises a series of webinars with the Service Providers presenting the characterization techniques and user cases.
The sixth webinar, titled 'Battery physics-based modelling: Fundamentals and Methodologies', will be presented by the expert Odile Capron from the Vlaamse Instelling voor Technologisch Onderzoek – VITO.
The topic
Mathematical models are nowadays commonly used as an efficient tool to simulate physical and electrochemical processes occurring inside battery cells. This type of models, or also called physics- based models, when coupled with experimental characterisations at both electrodes and cell levels, are of great value for design and development purposes of battery cells, as further for the understanding of the occurrence of their internal ageing mechanisms and the prediction of their lifetime. In practice, accurate lifetime predictions translated in terms of capacity decay of battery cells during operation is also of high importance in the research and development activities at VITO towards improved battery management systems for battery pack and modules in use in mobile and/or stationary applications.
The speaker
Odile Capron contributes, since 2019, to the Research and Development activities of VITO (Vlaamse Instelling voor Technologisch Onderzoek) within the Energy Technology Unit located in EnergyVille in Genk, Belgium. Her current activities are linked to the research and development of coupled electrochemical-thermal models dedicated to both automotive and stationary energy storage systems. She obtained a Ph.D. degree in Engineering Science from the Vrije Universiteit Brussel (VUB), Brussels (Belgium) in 2018 and has the double M.Sc. degree in Engineering from both Vrije Universiteit Brussel and Université Libre de Bruxelles, Brussels (Belgium) in 2013.
Practical information
Date & Time: 30 March 2022, 15:00-16:00 CET
Location: Online
Registration: Participation is open to all interested parties, please register on this page.
_______________________
About TEESMAT
Energy is one of the keystones of prosperity in the European Union. Access to advanced characterisation solutions enables industry to apply a knowledge-based approach, which is essential to accelerate innovation and reduce the cost of technologies.
Battery energy storage plays a major role in the ongoing transition to a decarbonised and clean energy system. The development of a competitive battery value chain in Europe is one of the top priorities of the European Commission.
TEESMAT – the Open Innovation Test Bed for Electrochemical Energy Storage Materials – brings a comprehensive response to the critical bottlenecks faced by EU stakeholders in the field of electrochemical energy storage materials. It leverages EU know-how & expertise from 11 countries and facilitates access to physical facilities, usable data, and industrially relevant services based on novel characterisation solutions.
The main impact of TEESMAT lays in setting up & implementing a financially sustainable Open Innovation Test Bed whose techniques and services address diverse problems faced in the development of clean, safe, high-performance battery solution.
Be part of TEESMAT community. W: www.teesmat.eu | T: @Teesmat_EU | In : TEESMAT
TEESMAT is an EU project that has received funding from the H2020, under Grant Agreement n 814106 (H2020-NMBP-TO-IND-2018).