Webinar - GD-OES depth profiling and in situ optical microscopy for deep insights onto Li-ion batteries
TEESMAT WEBINAR SERIES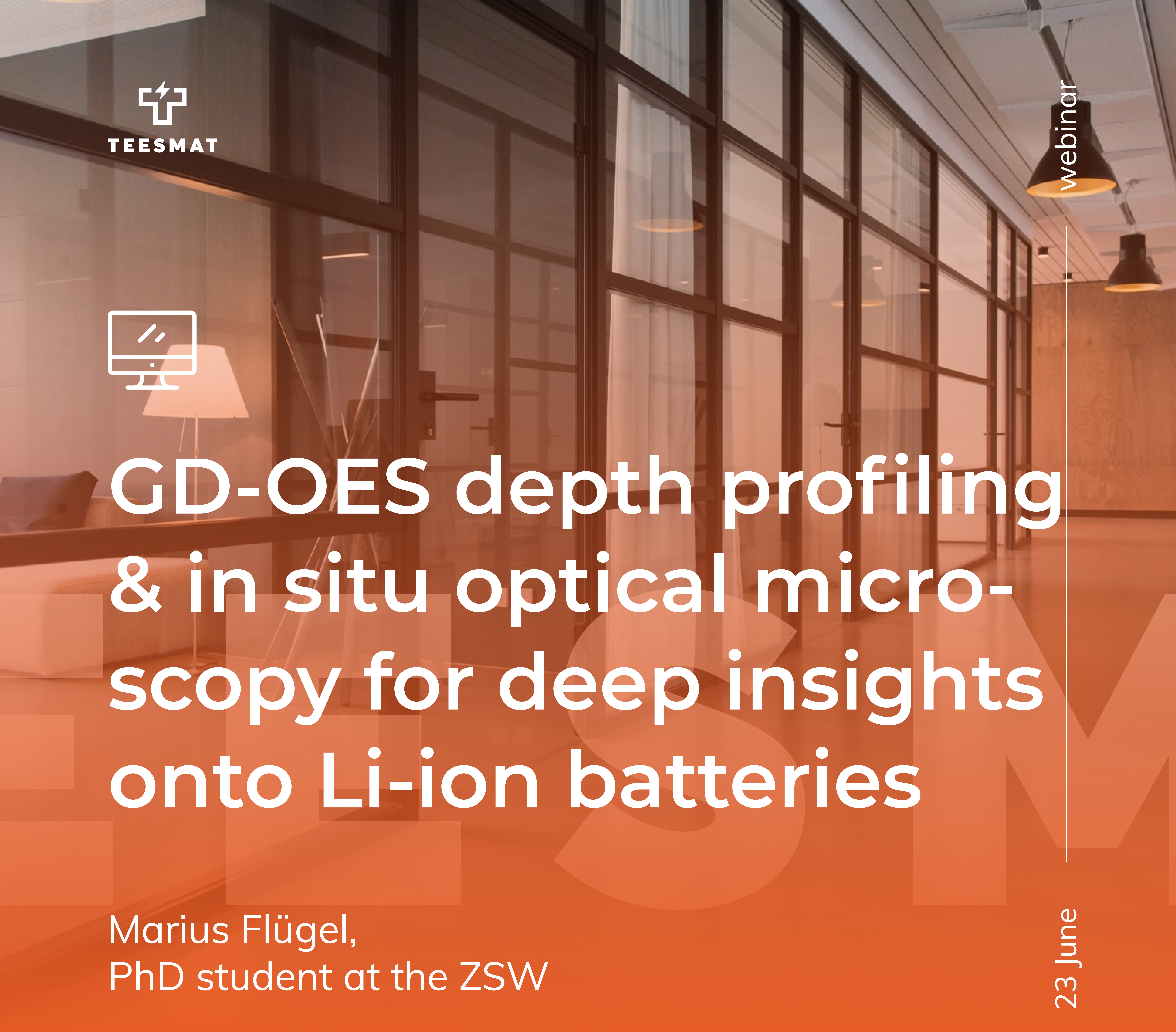 23 June 2022, 15:00-16:00 CET
Join the conversation! Register to our webinar for free!
TEESMAT project organises a series of webinars with the Service Providers presenting the characterization techniques and user cases.
The eighth webinar, titled 'GD-OES depth profiling and in situ optical microscopy for deep insights onto Li-ion batteries', will be presented by the expert Marius Flügel from the ZSW
The topic
The Topic of the webinar is the presentation of characterization techniques used at ZSW:
Glow Discharge Optical Emission Spectroscopy (GDOES) is a well-established spectroscopic method for the qualitative and quantitative analysis of metallic and non-metallic solid materials, including porous electrodes. In battery research, GD-OES provides the advantage of creating an elemental depth profile of an electrode over the entire depth within a few hours. As a result, aging mechanisms such as SEI formation, Li plating, and dissolution of soluble Si compounds can be detected.
The cross-sectional in situ optical microscopy method is a new analytical set-up to investigate Li-ion batteries during cycling. Direct observations of different phenomena such as chromatic changes, volume expansion and gas formations, can be correlated to the electrochemical data, due to the simultaneous data collection. For graphite anodes, these phenomena can be used to draw conclusions on charge distribution within the electrode and single particles, and solid-state diffusion.
The speaker
Marius Flügel is a PhD student at the Center of Solar Energy and Hydrogen Research (Ulm, Germany). He received his master's degree for the investigation of copper dissolution in Li-ion batteries due to over-discharge. For his PhD, he focuses on the aging of Si-containing anodes caused by Li plating. His expertise covers coating of electrodes, assembly of Li-Ion batteries and post-mortem analysis of these cells using various methods including GD-OES and SEM.
Practical information
Date & Time: 23 June2022, 15:00-16:00 CET
Location: Online
Registration: Participation is open to all interested parties, please register on this page.
_______________________
About TEESMAT
Energy is one of the keystones of prosperity in the European Union. Access to advanced characterisation solutions enables industry to apply a knowledge-based approach, which is essential to accelerate innovation and reduce the cost of technologies.
Battery energy storage plays a major role in the ongoing transition to a decarbonised and clean energy system. The development of a competitive battery value chain in Europe is one of the top priorities of the European Commission.
TEESMAT – the Open Innovation Test Bed for Electrochemical Energy Storage Materials – brings a comprehensive response to the critical bottlenecks faced by EU stakeholders in the field of electrochemical energy storage materials. It leverages EU know-how & expertise from 11 countries and facilitates access to physical facilities, usable data, and industrially relevant services based on novel characterisation solutions.
The main impact of TEESMAT lays in setting up & implementing a financially sustainable Open Innovation Test Bed whose techniques and services address diverse problems faced in the development of clean, safe, high-performance battery solution.
Be part of TEESMAT community. W: www.teesmat.eu | T: @Teesmat_EU | In : TEESMAT
TEESMAT is an EU project that has received funding from the H2020, under Grant Agreement n 814106 (H2020-NMBP-TO-IND-2018).