EUROPEAN PERSPECTIVES ON BATTERIES OF THE FUTURE
20/05/2020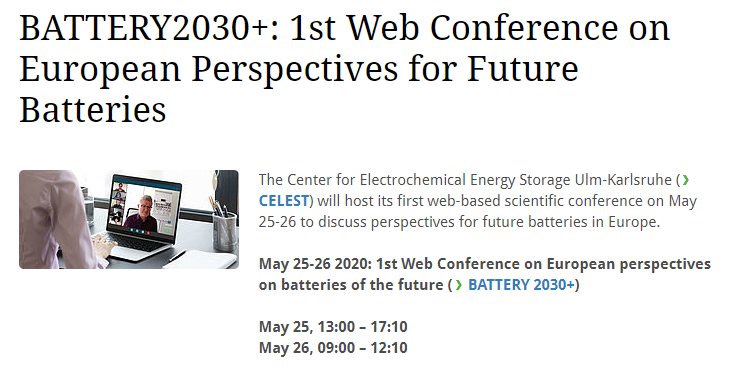 The Center for Electrochemical Energy Storage Ulm-Karlsruhe (CELEST) will host its first web-based scientific conference on May 25-26 to discuss perspectives for future batteries in Europe.

May 25-26 2020: 1st Web Conference on European perspectives on batteries of the future (BATTERY 2030+)

May 25, 13:00 – 17:10
May 26, 09:00 – 12:10

The conference will be a display of research performed in Europe in relation to the newly launched BATTERY 2030+ roadmap. Its purpose is to start the scientific discussions within the BATTERY 2030+ community as a foundation for our next phase as a large-scale research initiative.

Conference Program 25-26 May 2020

Conference Registration

CELEST is one of the most ambitious research platforms in battery research worldwide. The platform is aiming at enhancing communication and cooperation among the scientists involved and will pave the way for new, interdisciplinary collaborations.