Solid‐electrolyte Interphase at Positive Electrodes in High‐Energy Li‐Ion Batteries: Current Understanding and Analytical Tools
20/04/2020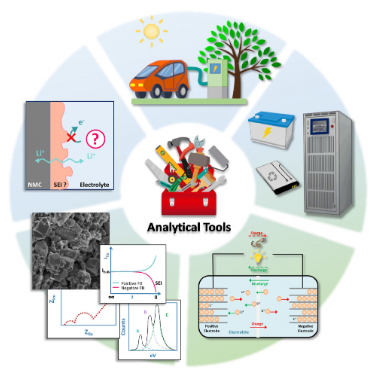 The following article is published by Giorgia Zampardi and Fabio La Mantia in Chemestry Europe – The European Chemical Societies Publishing.
The operating potentials of the Li‐ion batteries active materials usually exceed the stability window of the electrolyte, leading to its irreversible reduction or oxidation. Often, as an effect of these side reactions, a surface layer is deposited onto the electrodes' materials. These surface layers play a pivotal role on the battery performance, rate capability, irreversible charge losses, and safety. Despite their importance, such interphases are difficult to analyse because of their small thickness and sensitive chemical composition. With this review, the authors intend to describe the already established analytical tools for the analysis of the interphase layers formed at the electrodes' surface in Li‐ion batteries, together with the novel, unconventional ones under current development, focusing on the strengths and weak points of each technique. Particular attention will be given to the surface layers formed onto the positive electrodes through a summary of their current understanding. This is of main importance since understanding the interphase at the positive electrode side could enable the next generation of high energy Li‐ion batteries.
You can access the full scientific article HERE
© 2020 The Authors. Published by Wiley-VCH Verlag GmbH & Co. KGaA.